NEWS
Denise Richards on Charlie Sheen: "I Don't Know If He's Sober or Not"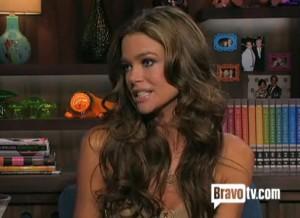 Article continues below advertisement
"For me, it's very sad to see him on this path," she said. "I've heard he's chosen to use me in part of his tour material, and that's hurtful. But that's his choice... He can do what he wants in his show."
"We're not in the best place right now, to be honest with you," Denise explained. "But I do still communicate with him."
Denise said she has met Charlie's goddesses, but her two daughters with Charlie have not.
"This is his lifestyle, and I've accepted it," she said. "There's things that I don't think are the most appropriate for two young, impressionable daughters."
OK! NEWS: BROOKE MUELLER HEADS BACK INTO REHAB
Does Denise think Charlie is sober right now?
"I don't know if he's sober or not," she admitted.
Charlie has recently been involved in a custody battle with his estranged wife, Brooke Mueller, over their twin sons.
"I offered to help. I wasn't asking for custody or anything like that," Denise said. "I put it out several times over the last couple of years that if they need help, I'm here."
"I would love the boys to stay and be with the girls."
Watch Denise talk about Charlie below!