NEWS
Denise Richards' Slender Secrets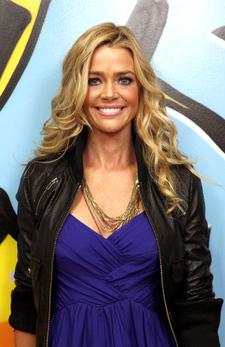 Some celebs might claim they don't need to work out to look good, but Denise Richards isn't one of them.
She writes on her blog that she gets asked about staying in shape, and that some of her figure is just luck.
"To be honest, I was blessed with great genes, my father is the same size he was in high school and my sister is very thin."
However, Denise does admit that it's not all about genetics, adding, "BUT!! that doesn't keep things firm! I do have to work at that. When my mom passed away I gained 10lbs, which has never happened except when I was pregnant. I didn't feel good, was very sad mourning my mom and wasn't motivated at all. Last summer I started to feel better about her death and needed to pull myself together."
Article continues below advertisement
Denise goes on to detail her workouts with a pilates machine and instructor, as well as walking in her neighborhood and training for Dancing With the Stars.
"After the show, I really wanted to keep it up, I started taking Louis Van Amstel's cardio ballroom class (he was lisa rinna's partner the season she was on) www.dancingwithlouis.com he is awesome."
Even if you don't have the funds to hire your own trainer, Denise recommends just taking a class and getting started on a routine to stay in shape.
"For those of you that are curious about me staying in shape and how to get started on a routine, I would say look in your area for some fun dance classes that you can go to, and if you can't afford a pilates instructor, maybe look into yoga classes or a pilates mat class," she writs. "I actually like going to classes as well, the environment really motivates me. I find a strength training class (pilates, yoga) and a cardio class (dance, spinning) are the best combination for my body that combined with eating healthy and you'll have a bikini body in no time!"