NEWS
Denise Richards Talks Baby, Pet Adjustment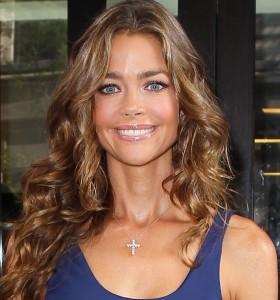 Now that Denise Richards has added adopted daughter Eloise to her family, her pets have had to adapt.
"Oh, they love her," the actress, 40, tells me Tuesday at the Christmas in July Pet Product Showcase held at Intercontinental New York Barclay Hotel. "Yeah, all my pets are great with kids, so they're very happy. They follow them everywhere, and they're very protective of them."
Daughters Sam, 7, and Lola, 6, whose dad is ex-hubby Charlie Sheen, are certainly keeping the new arrival entertained.
MORE ON:
Red Carpet Confidential
Article continues below advertisement
"Oh gosh," she says. "They always put on funny little dance shows for me, which I think are very cute. Eloise is seven weeks old. She's very tiny. She isn't aware yet. She's little. She definitely has a lot to look forward to, and I'm sure she'll look up and laugh at her sisters."
What a life!
Pick up Denise's book, The Real Girl Next Door, which is in stores now. During the Christmas in July Pet Product Showcase, she picked up products like the Smart Scoop, Angry Birds wand, running bird, Birds Gone Crazy cat toy; Frolicat Sway and Frolicat Twitch; Paint Kit for Cats by Kitty-Casso, At Night Play-n-Squeak and Border Patrol dog security system.