NEWS
Dennis Quaid Lashes Back at Meg Ryan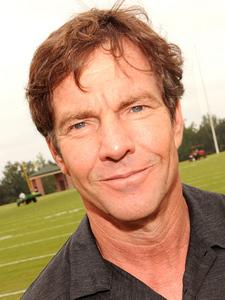 Dennis Quaid is hitting back at ex-wife Meg Ryan after she opened up about their divorce, saying that he had repeatededly cheated on her.
"Dennis was not faithful to me for a long time, and that was very painful," she told In Style.
"It was eight years ago, and I find it unbelievable that Meg continues publicly to rehash and rewrite the story of our relationship," Dennis tells New York Daily News' Rush & Molloy.
Article continues below advertisement
"Also, I find it regrettable that our son, Jack, has to be reminded in a public way of the turmoil and pain that every child feels in a divorce."
Dennis is also angry at what others are saying, including a source who says of the couples' custody agreement that "Meg came to believe he was drinking again and wanted full physical custody of Jack."
However, "Meg and I have always had joint custody of Jack without any stipulations whatsoever," Dennis claims.
"I, myself, moved on years ago and am fortunate to have a happy, beautiful family," adds Dennis, who married Kimberly Buffington and had twins last November.