NEWS
Dennis Rodman on Tiger: "He Didn't Do Anything Wrong"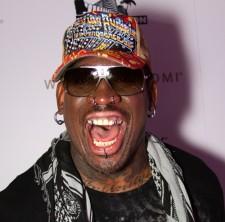 Dennis Rodman had some strong opinions about Tiger Woods' alleged affairs. In an interview with FOX News Channel's Your World with Neil Cavuto Dennis said, "I think people expect me to do it, you know, it's just Dennis. But Tiger, that's a different story."
Dennis maybe shouldn't be one to talk, but he definitely had a lot to say about Tiger.
"He has a squeaky clean image and they just want to find anything," Dennis explained. "A car wreck has just almost blew his life out of control, just a car wreck."
Article continues below advertisement
"He is a mega star," Dennis added. "People expect him to be this loving husband and this loving father, and this, you know, when you have that much money and that much power, of course all the hoodrats' and everybody is just gonna come all out of the woodwork."
Dennis wasn't surprised that Tiger had some secrets.
"Everyone knows that if you're famous, or you are rich, you are not invincible," he said. "You have some skeletons in your closet, everyone has skeletons in their closet, everybody on this planet has something in their closet. It just takes one thing to let them out, one thing."
How can Dennis defend Tiger? Well, he knows him personally.
"I know Tiger, I know Tiger since back in the early '90s. He is a very good guy. He has beautiful kids and a beautiful wife and what's going on right now he just needs to just talk and say, you know, whatever, I'm here man."
Is Dennis surprised that Nike is staying with Tiger? Not at all.
"Nike loves controversy; they love it, they had Michael Jordan, Tiger Woods, they got Lebron James," Dennis said. "Waiting on Lebron James to mess up, he's next, he's got to be next, he's gonna be next. Just imagine Lebron James in New York."
Dennis doesn't feel that Tiger did anything wrong.
"He didn't do anything wrong, he became famous at a young age. Once your life is under a microscope everyone wants to look at you and just nitpick everything you do so bad."
So what was Tiger's biggest mistake?
"Probably living," he said. "No, just kidding."
"The biggest mistake I probably made," he explained. "I think being married, getting married, you know, I am not a "married type" that's probably the biggest mistake."