NEWS
Derek Hough's DWTS Blog: Tangoing to the Top!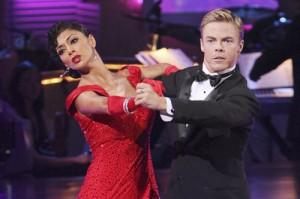 Dancing With the Stars pro Derek Hough has teamed up with OK! to update you every week as he attempts to turn his partner Nicole Scherzinger into a ballroom champion!
Hi, everyone! Welcome to my OK! blog on the fifth week of Dancing With the Stars competition. Nicole and I really had a breakthrough with our tango last night.
The score of 29 was thrilling and judge Len Goodman calling it our best dance of the season — sweet!
Article continues below advertisement
To be honest, we've felt the pressure from week one on — thinking that people expect a lot from us because of Nicole's Pussycat Dolls stardom. But we also expect a lot from ourselves.
Last week, when our rumba got dissed slightly by the judges, Nicole was emotional and freaked out about it. But it turned out to be a turning point for us that made us stronger. After last week's challenging rumba, Nicole snapped out of it. When you're in the show, you get so caught up in it and it becomes your whole world and you forget about reality. But we dusted ourselves off and came back strong.
DEREK HOUGH'S DWTS BLOG: REVVING UP FOR THE RUMBA
We decided this week to enjoy ourselves to the fullest and if mistakes happen, we're just not going to worry about it. Nicole and I just want to entertain everybody — that's what it's all about.
The movie theme idea worked well for us this week because Nicole is a huge fan of Pretty Woman — both the film and the Roy Orbison song and we just came out and had a fun time with it. We didn't take it too seriously. I think in my choreography, I succeeded in reflecting the lightness of the song even though a tango is usually dramatic and heavy.
Article continues below advertisement
In rehearsal, we worked our butts off. I'm exhausted this week — I feel a twinge in my legs, my arms. It's nothing serious but your body starts to wear down at this point in the competition.
Nicole's a perfectionist and she wants to be in the studio six or seven hours a day working hard. It's not like we just walk in and do an hour and we're done for the week! We're in there rehearsing a lot of times when other people aren't. We often work overtime. So what you see on TV? It doesn't come easily. A LOT of effort goes into it.
I've stopped thinking about the scores, so last night, I was just enjoying the performance without obsessing about what the judges would say. If you focus on that, you're not dancing for the right reasons. Scores are just guidelines to address what you need to work on. It helps you but the real thing to keep in mind is having a good time.
After the show, Nicole told reporters there's a different energy for her in the ballroom. When she performs on her own or with The Pussycat Dolls, it's another dynamic. It's kind of fearless. Here, she's a lot more vulnerable because she doesn't know what she's doing, she's exploring a new challenge like everyone else. She's having a blast, but she also jokes sometimes, can you please just let me sing while you dance this week?
If we make it through tonight, we'll do the samba, which is a tough dance. I think rumba and samba are the two hardest dances, so we'll have our work cut out for us. But it's going to be a tough elimination tonight so keep your fingers crossed for us! And, of course, thanks for all your votes!
Derek