NEWS
Desperate Housewives: A recap!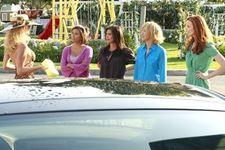 Maybe it's just me, but it's a little weird to watch Desperate Housewives without Edie's energy.
Sure, other people have died on the show. But they weren't a part of the core group of gals who are Wisteria Lane.
Still, the show soldiered forward.
Lynette and Tom's are off their sex schedule.
Their subsequent flirtatious encounters with Carlos (come on, in the back of her mind, Lynette had to think there was a chance Carlos might accidentally see her naked!) and Tom's interactions with the town slut from the garden club, are a set up for an upcoming episode where they'll actually deal with the lack of sexual contact in their relationship.
Article continues below advertisement
Here's a hint: less talking and more doing!
While I'm sure Gaby is happy to have her old life back, it seems that Eva Longoria-Parker had more to tackle when she and her family were financially strained.
Money can't buy you a storyline, I guess!
Of course, the heart of tonight's story was Dave learning who was really behind the wheel of the car that killed his wife and child.
Poor Susan, if she only knew how to keep her mouth shut!
Though I can't believe that DH executive producer Marc Cherry would even think of implying that Dave is going to hurt Susan and Mike's five-year-old son.
Especially since Mike doesn't seem too keen on starting a family, or even settling down with his girlfriend Catherine anytime soon…