NEWS
Destination Nobu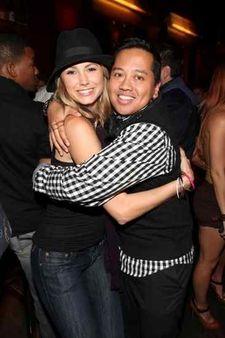 The AList has been building Nobu West Hollywood up to be the destination hotspot for Wednesday nights the last few weeks. This week, the hotly promoted yet intimate soiree definitely succeeded. A host of celebs passed through to say Happy Birthday to EFG's Rembrandt Flores who was such a host you'd think he was working rather than playing. For some, being a publicist is more of an identity than a job, but, if you wear it well…Among his celebrity friends out to celebrate were Chris Evans, Stacey Keibler, JC Chasez, Holly Montag, Matt Dallas and Joanna Garcia.
Article continues below advertisement
Elsewhere in the room…
I spotted still reddish-haired Rumer Willis with her boyfriend, I said hi to Taryn Manning who was at the next table celebrating her bro's bday and I brushed shoulders with Dina Lohan as we passed one another in the small entryway from the restaurant to the bar. Later I learned Dina was at a table with her daughters, 15-year-old Ali and newly red-headed Lindsay – and "the table was covered in martini glasses." Classy.