NEWS
Desus & Mero Reveal How Much More Showtime Is Paying & Claim DJ Envy Refused To Meet Them In The Bronx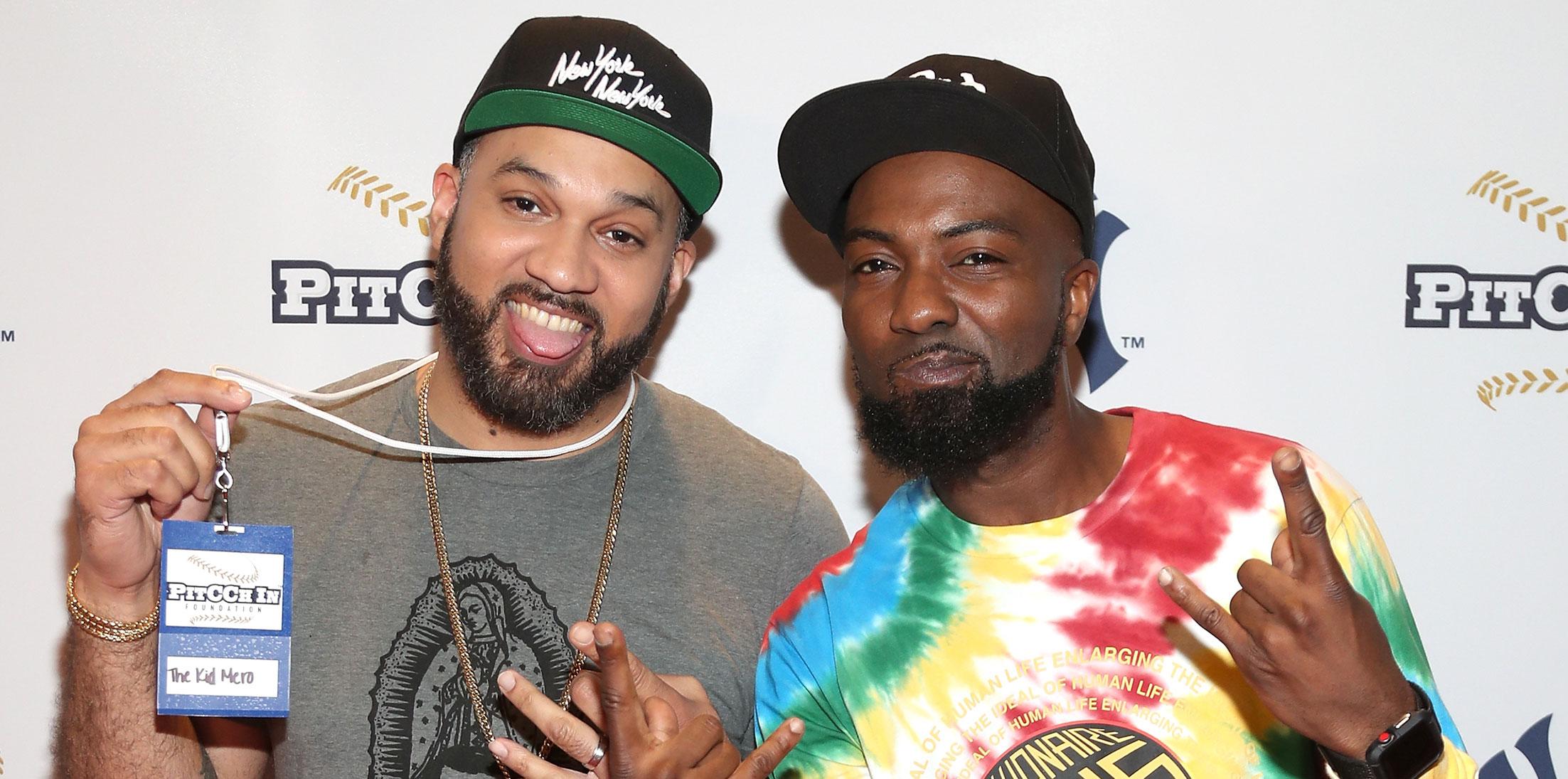 Desus Nice & The Kid Mero, hosts of Viceland's popular late-night show Desus & Mero, just announced that they are taking their talents to Showtime, but how much more will the network be paying for duo's unique talents? The Bodega Boys spoke exclusively to OK! Magazine about all that and more on Thursday night at CC Sabathia's Celebrity Softball Game at Yankee Stadium in the Bronx.
"It's a little melancholy," Mero admitted as the pair discussed recording their final episode earlier that day.
Article continues below advertisement
"We're literally unemployed right now," Desus added. "We go from having a TV show, now we're just like two broke guys in the Bronx."
However, as fans know, this is not exactly the end for the BX natives, who have had a home at Vice since October 16, 2017. This month, news broke that podcasters turned television stars inked a brand new deal with premium cable network Showtime.
Desus and Mero have been known to take good-natured jabs at Viceland's budget, citing everything from their own salaries relative to other rising stars in the industry, to the impressive collection of insects caught by their onset flytrap. While there is something inherently cool about Vice's distinct brand of niche content specially tailored for in-the-know millennials, the prospect of a Desus & Mero for the "I pay for cable" crowd is an undeniable and well-deserved leap for the hosts, both 35.
So exactly how much more than Viceland is Showtime paying Desus and Mero to do their show? The duo could not hide their excitement over their recently-secured bags. "How much more is Showtime paying? Let's put it this way, we can go to Target now and throw anything in the cart and not check the price, that's where we're at right now," Desus laughed.
"Yeah, I'm talking almond butter, nothing GMO," Mero added.
Article continues below advertisement
Indeed, the deal represents a mutual win, as Showtime gets to add Desus and Mero's hilariously honest commentary to its lineup. Just how honest are they? It seems there is not a single topic they won't take on. When asked about a recent joke Patriot's quarterback Tom Brady made about munching on wife Gisele Bundchen's "groceries," the die-hard New York sports fans shared their takes, as the topic is a recurring theme on their program.
"Now he has to be considered the GOAT," Mero proclaimed at first.
"I don't know," Desus said, "because he engages in a** eating, but he also kisses his kids on the mouth?"
"Yeah, so if you do one then the other..." Mero trailed off.
"That might be more serious than deflate-gate," Desus decided. "You can give your kids herpes, is that the new wave?"
Desus and Mero's deep-dive into murky waters has certainly not been well-received by everyone. Back in March, they both appeared as guests on Power 105's The Breakfast Club, where they were immediately confronted by host DJ Envy for comments they'd previously made on-air about his wife's reasons for staying with him after his cheating scandal. Envy stormed out of the interview in anger, and the footage went viral.
Article continues below advertisement
It's been more than three months since the clash, but it seems some wounds are slow to heal. "DJ Envy was supposed to be here tonight. He didn't show up," Desus claimed. "It's all love. Like why do you think if you come to the Bronx and beef with two guys from the Bronx — we live like 10 blocks away from here — things would end badly for you?"
Since DJ Envy's notorious interview with the Bodega Boys, Bravo has announced a new show featuring the radio host and his wife, and Desus shared that he was more than happy to help him open that door.
"We love Envy. Shoutout to Envy. Shout out to his new reality show that him and his wife is launching based on internet beef. You're welcome," he said.
"Enjoy that Bravo series, my guy," Mero laughed.
As for the future, both Desus and Mero have extended an open invitation for DJ Envy to meet up with them, on-air or off. "He's invited to the Showtime show, he's invited to all four of Mero's kids' bar mitzvah's, he's invited to my circumcision, my bris, I have an open house coming up in two weeks — he can come to anything he wants," Desus said. "My gutters are pretty stuck, and if he has big hands he can clear it out if that's what he wants to do."
Mero offered up an invite to his garage sale, which is scheduled for next weekend.
What do you think of Desus and Mero's beef with DJ Envy? Sound off in the comments!