NEWS
Devon Aoki Gives Props To Her Pop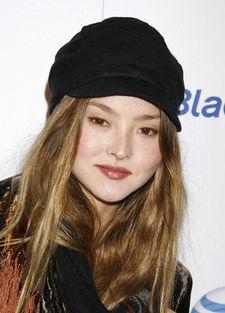 Devon Aoki is mourning the loss of her father, Hiroaki "Rocky" Aoki, who passed away Thursday at the age of 69. The Olympic wrestler brought Japanese cuisine to the U.S. with his Benihana restaurant chain.
When the 25-year-old supermodel/actress called me recently, she was quick to plug her pop. I asked her, what's the best thing about being the daughter of the owner of Benihanas?
"Free food!" she tells me. "I grew up eating there. I like the food because I was basically raised in Benihana. I had every birthday party since I was two at Benihanas."
Article continues below advertisement
She tells me the Benihana story is special to her because it defines her parents' union. Dad Rocky and mom Pamela were married from 1981-1991, and produced three children, Kyle, Echo and Devon; famed DJ Steve, Grace and Kevin are half-siblings from his previous marriage.
"They met in New York around the time he had started establishing himself and he had gotten some success from his restaurant," Devon tells me. "She was there from the very beginning of his success and watched his journey. She was his support system."
Devon is inspired by her dad's struggle and what he was able to achieve as a Japanese immigrant to the U.S.
"He came in on a scholarship going to Columbia University," she tells me. "He struggled to 'make it' and to establish himself as a business man after years and years of a grueling work schedule and doing jobs that weren't glamorous at all. He was an ice cream truck man for a summer so he could make enough money to open his first restaurant."
Article continues below advertisement
Rocky opened his first restaurant in New York in 1964. Today, there are ninety Benihana-affiliated establishments around the world.
Even though her dad became a multi-millionaire, she is quick to point out that her lifestyle isn't the result of being a trust-fund baby. She tells me she was emancipated from him at age 14.
"I hear all sorts of weird things about myself and 'oh her dad must be able to do X, Y and Z for her,' but I've lived with my mom pretty much my whole life, and my mom's been incredibly helpful as far as helping with my modeling career at 13 years old. She was the one who traveled with me and made sure that I was looked after until an age where I could travel alone and be all right."
Deepest condolences go out to Devon and her family during this difficult time.