NEWS
Diablo Cody: Influence Broker?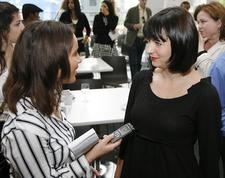 With the election around the corner and the media spotlight on republican vice-presidential candidate Sarah Palin, Juno writer and director Diablo Cody has found her 2007 hit back in the spotlight amidst controversy surrounding the teen pregnancy of Palin's daughter, Bristol.
"I was getting contacted by so many people regarding the plight of young pregnancy that I was beginning to think I was the leading obstetrician in this country or something," Diablo said at the MTV Networks Election Effect Panel Discussion in NYC.
Article continues below advertisement
She laughed off questions about her teen comedy "glamorizing teen pregnancy."
"If I would have know that I wielded that kind of power, I would have written a movie called Don't Vote for McCain," Diablo joked.
Since Juno's release, the surprise hit has grossed nearly $144 million domestically on a mere $7.5 million budget. The coming of age film staring Ellen Page and Michael Cera has been thrust into debates surrounding the election, but Diablo says that was never her intention.
"For me it was not political propaganda in any way," she tells OK!. "What's strange to me is that anybody's even asking my opinion. I wrote a movie. It was just a story and it's strange to me that it's become this sort of totem for teen pregnancy.
"The key thing that people tend to overlook is that Juno gives the baby up for adoption, she adds. "These girls that are being used as examples in the media are keeping the babies and becoming teen mothers. That is a very different thing."
Article continues below advertisement
Although Diablo would rather keep her Oscar-winning movie out of elections discussion, she has no problem speaking out about her own political views.
"I think Sarah Palin is creepy actually," Diablo says. "Creepier than McCain. But you know I think my beliefs have been very liberal my entire life, so naturally I'm voting for Obama. I used to think that McCain wouldn't make a bad President to be honest, but I think this election has exposed so much ugliness that its just cemented my beliefs."
Following Juno's comedic success, Cody's decided to take a career turn by writing the horror movie Jennifer's Body, which stars sexy starlet Megan Fox and is planned for a 2009 release.
"It's a downer but it's really fun," Diablo reveals. "I say Juno is life affirming and my next movie is death affirming."
By Laura Lane