NEWS
Diane Sawyer Battles With 'Glee' Bully Sue Sylvester on Twitter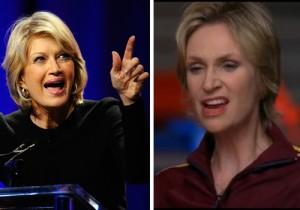 Diane Sawyer is definitely loved by Hollywood, but she does have an enemy over at William McKinley High — Sue Sylvester. The incorrigible cheerleading coach from Glee played by Golden Globe/Emmy winner Jane Lynch may be a fictional character, but her Twitter feud with the beloved ABC News anchor is definitely raging off camera.
In the Super Bowl episode of Glee, Coach Sylvester sat down with Diane's pal Katie Couric during a scene (in which the CBS news anchor plays herself) at the end of the episode in which Katie continued to take jabs at Sue for her nasty behavior.
Article continues below advertisement
"I hate you, Diane Sawyer," the harsh-tongued teacher proclaimed.
And while the audience knows this is comment was in jest, Diane isn't going to let the diss go!
On her show Monday Diane warned, "Watch out, Sue Sylvester. Watch out."
And she also sent a message to Sue Sylvester's Twitter account: