NEWS
Did Lindsay Lohan Get Her Stained Teeth Fixed?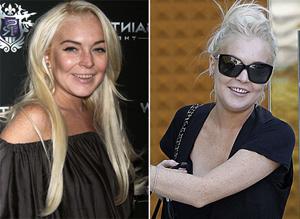 Lindsay Lohan turned-heads earlier this month when she was photographed at a red carpet event flashing her not-so-pearly whites. Lindsay's stained teeth caught the attention of many and led to reports that drug use may be the cause. Over the weekend, Lindsay was snapped out shopping with her sister Ali Lohan in Brentwood, Calif. with a fresh smile, suggesting she may have had emergency dental surgery.
Article continues below advertisement
"It would appear she had an emergency dental intervention," Dr. Pankaj Singh, of Arch Dental Associates in NYC told Radar Online, adding she "either had some bondings or veneers done to cover up the stained and decayed teeth."
Dr. Singh, who has never treated the 25-year-old actress also told Radar that he believes Lindsay's stained, decayed looking teeth "appears to be from a combination of smoking, drug use and a lack of personal care."
Her dad Michael Lohan also spoke to the media about his concerns that his daughter is headed down a shaky path.
"I want Lindsay to go into rehab for a year. She needs long term care," he told Radar Online. "Between pictures of her with bad people and her teeth, it is quite evident that her problems have not been addressed or conquered."
What do you think — did LiLo have help enhancing her smile?