NEWS
Did a Text Start Chris & Rihanna's Fight?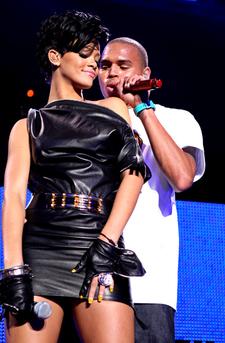 A text message sent to Chris Brown while he and girlfriend Rihanna drove home from Clive Davis' party this weekend could have been the spark that started the fight between the two, the New York Daily News reports.
Law enforcement sources say that the message to Chris was from a woman and included something about hooking up with him later, which no doubt made Rihanna mad. The confrontation between the couple resulted in Rihanna allegedly being hit so hard her eyes would barely open for police photos, and Chris has been charged with making criminal threats.
Article continues below advertisement
But who could this mystery woman be? As OK! reported, Chris' attention to Paris Hilton at a Feb. 6 party was the cause for some discord between the couple.
"He and Paris went outside together," a witness tells OK!. Back inside, they got closer. "Paris was all over him," the partygoer says. "Rihanna caught wind of it and spent the rest of the night glued to him."