NEWS
Did Tiger's Texting Spark Spat with Wife Elin?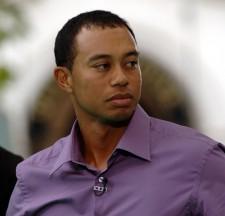 According to sources cited by TMZ, the fight between Tiger Woods and wife Elin Nordegren preceding his car crash was sparked by text messages between Tiger and one of his alleged mistresses, Rachel Uchitel. Those same sources say Rachel has admitted having an affair with the golfer, even though she has publicly denied it.
Sources said that less than an hour before Tiger's crash, Rachel and Tiger were texting each other. Elin wanted to know who her husband was texting and grabbed the phone from him, TMZ reports, saying she then called Rachel to confront her.
Article continues below advertisement
Elin and Tiger began arguing, according to sources, and his phone was broken as a result.
Sources also said there was damage done in Tiger's home as a result and that's why he wouldn't let police into the house.
Rachel's lawyer, Gloria Allred, had scheduled a press conference today at 11:30am PT, but later canceled it.
Check back for updates!