NEWS
Diddy Tells OK! About 2012 Plans & Tweets Congratulations To Jay-Z And Beyoncé!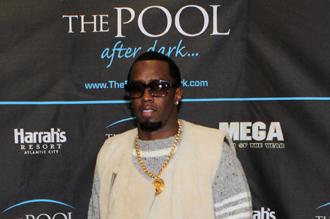 Diddy is known for throwing memorable parties, and this New Year's was no different. The rapper and entrepreneur spoke exclusively to OK! at The Pool After Dark at Harrah's Atlantic City about NYE and his future plans (including more acting!).
"Oh man, New Year's was incredible," Diddy told OK!, "You know Cîroc, the celebration Vodka, it represents the art of celebration. It's getting bigger by the day."
Article continues below advertisement
"Cîroc we're just gonna keep on expanding, keep on getting bigger, keep on getting better. A lot of new music with Bad Boy Records and some movies."
OK! GALLERY: GRETCHEN ROSSI, KIM ZOLCIAK, RIHANNA, DIDDY AND MORE CELEBRATE NYE WITH CÎROC!
Diddy couldn't give a lot away about what movies, but he did say "comedies, action comedies."
"To be honest, the first couple of weeks of the year, it's really decision time. I've been provided, blessed to be provided, with a couple of offers and now I have to make a decision on which one I want to do."