NEWS
Didi Benami on 'Idol' Elimination: 'It's Been a Crazy-Cool Ride'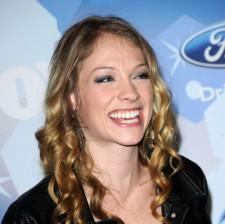 Didi Benami, who was eliminated on American Idol Wednesday night, told reporters in a press conference call today, "Honestly, I got further than I ever thought I would."
"It's been a crazy-cool ride," Didi reminisced. "I'm not at all distraught about anything."
After her Tuesday night performance of "What Becomes of the Broken Hearted" didn't go over well with the judges, Didi was voted off. Luckily for the 23-year-old former waitress, however, as the number 10 Idol finisher, she will get to perform on the concert tour this summer.
Article continues below advertisement
OK! NEWS: IDOL ELIMINATION: WHAT YOU DIDN'T SEE ON TV
And on Thursday morning, Didi said of her Idol experience that it's like "boot camp for singers. It's a lot of pressure. I can't wait to sleep. I'm exhausted but really grateful."
Before she was plucked from obscurity by Idol, Didi revealed, "I faced a lot of ridiculous hardships" while living in L.A.
On several different occasions from 2006 to 2007, she confided, "I was living out of my car. It's never been a stable environment for me here. You get kicked down a lot."
But now, Didi can actually pursue her musical dream: "I'm relieved I get to go on the American Idol tour. I don't have to work as a waitress anymore! I will be able to make a living at what I love to do over the summer and hopefully for the rest of my life."
Article continues below advertisement
In the future, Didi sees herself as an acoustic style singer/songwriter who would perform "chill, relaxing music."
She leaves behind her friends Siobhan Magnus and Crystal Bowersox.
"Crystal and Siobhan and I are very close and I wish them the best of luck," Didi said. "I think we're going to be friends for a long time. It's tough to leave but I'm going to see them again soon on tour."
On Tuesday night, host Ryan Seacrest had urged Didi to reveal on camera why she'd chosen to sing "What Becomes of the Broken Hearted" — to honor the death of her roommate, which inspired Didi to try out on Idol.
"It was a little awkward for me," she told reporters today. "I was trying to convey a message through the song."
But she doesn't think the odd moment with Ryan hurt her with voters.
Article continues below advertisement
Didi, who greatly impressed the judges in her original audition with her emotional performance of the Beatles" "Hey Jude," admitted she's "so bummed" she won't be able to participate next week, when the final nine are set to sing John Lennon/Paul McCartney classics.
"I wanted to do 'Blackbird' or 'Across the Universe,' " she sighed.