NEWS
Dierks Bentley's Guilty Pleasures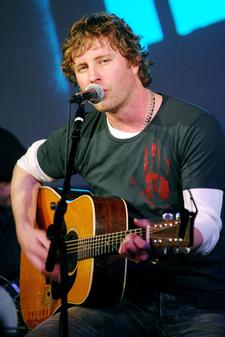 Dierks Bentley is totally a man's man in the world of traditional country music, but apparently even macho guys seem to have no problem confessing to Jonas Brothers fandom.
"I'm very intrigued by the Jonas Brothers," Dierks admits to EW.com. "It's good music! I actually downloaded 'Girl of My Dreams'. I hate to have that on tape. The line that stuck out was something about 'you can take this, you can take that, you can take this awesome scarf my grandma made for me.' I loved it. They're singing it all punk."
Article continues below advertisement
It's lyrics for a younger audience, but they really perform with a lot of bravado and they have a lot of great moves," he adds. "When I was 13, I was just figuring out how to play 'Eruption,' poorly, by Eddie Van Halen."
In addition to his JoBros' fix, Dierks likes to throw in a few guilty pleasure movies for good measure, including The Devil Wears Prada and Days of Thunder, the latter which gets him teary-eyed, despite its macho racing theme.
"When Rowdy Burns asks Cole Trickle to drive his car in Daytona ... that is a tender moment for any guy out there," he confesses. "As a dude, as a NASCAR fan, that's a big deal."