NEWS
Dina Lohan Appears on 'Good Morning America'; Lindsay Lohan Back With Samantha Ronson?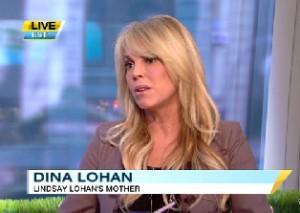 Lindsay Lohan's mom Dina Lohan appeared on Good Morning America today and praised the Betty Ford Center, spoke out on Lindsay's recent jewelry theft case and address Charlie Sheen's advice to her daughter.
OK! NEWS: CHRISTIAN SLATER SAYS HE'S REACHED OUT TO 'STRUGGLING KID' LINDSAY LOHAN
"Betty Ford was life changing for all of us," Dina told George Stephanopoulos on GMA. "I mean, I've put her in a couple of rehabs over the years, and, you know, it's not about the rehab, it's about where she is personally in her sobriety and her growth. She's matured considerably."
Article continues below advertisement
But Dina places some blame on the media for Lindsay's current trouble with the law in allegedly stealing a necklace from a jeweler.
The mother says they are taking the charges against her "very seriously."
"I'm not convinced about anything because the system is the system," she said. "I'm a firm believer in the system, but anything can happen, especially in that town Hollywood."
And Dina also spoke out on Charlie's advice to her daughter.
"I don't know why they compare the two Sheen and Lindsay Lohan ... Lindsay took his advice, and she gave him advice as well," Dina said.
What advice?
"Just get help, you know."
OK! NEWS: LINDSAY LOHAN ON HER WHITE DRESS — "SHOULDN'T BE FRONT PAGE NEWS"
And it appears Lindsay and Samantha may have reunited. Lindsay's ex-girlfriend Tweeted this morning, "Watching Grey's Anatomy -- my fav show -- @lindsaylohan sleeping next 2 me -- should I wake her up to let her know her mom is going on GMA? #why?"
Watch Dina's interview below!