NEWS
Dining With Drew Barrymore's Boyfriend Justin Long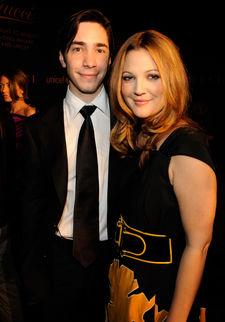 Justin Long swept Drew Barrymore off her feet seven years after they first met, and they recently celebrated seven months together.
"I am crazy-lucky," Drew, 33, tells me.
The lovebirds share a wacky sense of humor – and they're not afraid to use it.
What was Justin's worst dining out experience?
"I was at a place once that I just ended up having to leave," Justin, 29, tells me. "Some places, it's startling how awful the service is. There was a really pretentious vegan place in New York, in Greenwich Village, and the waiter – he sensed that I wasn't really vegan because I asked 'what's the meatiest meat that you guys have? What kind of animal can you chop up and put on a bun for me?' And he was like pretentious accent 'we only have vegan, no expletive meat.' I was like 'I'm really sorry, I'm just joking…'"
Article continues below advertisement
"So I give him my order and he never brought it out, literally half an hour went by, there was only one other person in the restaurant and I went to the bathroom. When I came back, the other guy in the restaurant was walking toward the door and had my script in his hand. I saw him as he was leaving just throw it in the trash. I followed him out, and I was so stunned I didn't know what to say. I was like 'excuse me, did you just walk over to my table and throw that script out?' and he says 'yeah, I did.' I said, why would you do that?' And he says 'because you're disrespectful of my lifestyle and my choice. I hate what you said to that guy, and I thought it was really ugly and mean.'"
"I was like 'I was joking, I was totally joking.' I was like 'why would you just pick it up? That was the most aggressive and mean thing you could've done. Just because I made some joke, a vegan joke, you're going to throw out my script?' He goes 'yeah, that's how I did it.' I was in this guy's face but then I got nervous because anyone who's willing to do that – go over to your table, pick up your script and throw it in the trash – who is that blatant – would probably not hesitate to pull out a hypodermic needle and stab you with it."
MORE ON:
Red Carpet Confidential
Article continues below advertisement
"That was my instant thought. He wasn't going to punch me – he was going to pull out a hypodermic fluid filled with I don't know what kind of fluid, maybe his own – and inject me with it in the jugular. Well, that last part didn't happen but in my head it did."
Justin tells me he worked in an Italian restaurant in Connecticut for a year, and confesses he was the "world's worst waiter."
He says, "I was terrible. I would forget orders, I would talk too much with people, I would like socialize at the tables and I would neglect other tables. I was terrible. The cooks all hated me. I would intentionally mess up orders because I knew they would send it back and I would get to eat it. I would be like 'You said 'can I have more bread?' I thought you said 'can I have a lobster?' I'm sorry, I'll just take that back.' And I'd have a nice lobster dinner. I had to manipulate the system."
No wonder the head chef gave him a derogatory Italian nickname.
"I had no idea what it meant for months, but I thought it was a term of endearment. It turned out it means something like ***** face."