NEWS
Be a Dinner Party Superstar with Fig & Olive's Fig & Gorgonzola Tartlet Recipe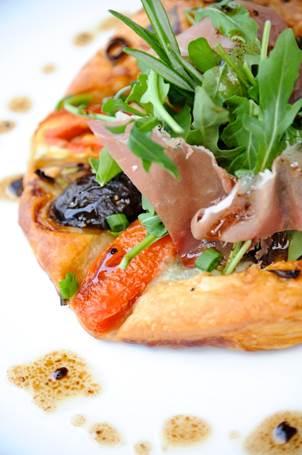 I know tarts are supposed to have a rustic charm, but there's something so fancy and fabulous about them when done right. Whether it's the allure of the golden crust or the decadent filling, I'm totally on board them whether savory or sweet. Fig & Olive does right by the dish with their Fig & Gorgonzola Tartlet. Try the recipe for yourself!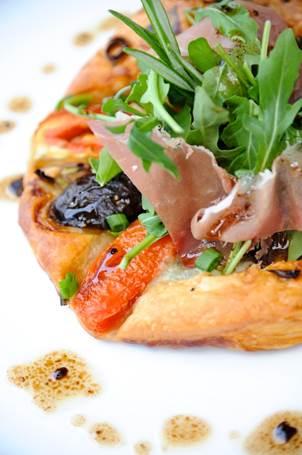 Article continues below advertisement
Courtesy of Executive Chef Pascal Lorange, Fig & Olive
Serves 4
Ingredients
1 sheet Fine puff pastry (available at your local gourmet supermarket or bakery)
1 bunch Scallions
4 Heirloom tomatoes
8 Fresh Figs (if not available or in season, you can substitute with dried white figs)
8 oz. Gorgonzola
2 oz. Chopped Walnuts
1 tsp Fleur de Sel
1 tsp Pepper
2 TB Olive Oil (preferred choice: Fig & Olive's Arbequina Olive Oil, $13.99)
1 Fresh Rosemary Sprig, to garnish
2 slices Prosciutto di Parma, to garnish (can omit for vegetarian diners)
¼ cup Arugula Greens (baby Roquette)
1 tsp Fig Balsamic Vinegar
1 TB Arbequina Extra Virgin Olive Oil
OK! News: The Secret to Victor Tangos Blackberry Barbecue Sauce
Instructions
1. Preheat oven to 400 degrees F.
2. Roll out puff pastry sheet until you are able to cut four 6-inch circles out of it.
3. Place the circles on a well-greased baking sheet.
Article continues below advertisement
4. Dice the scallions to yield ½ cup and sprinkle evenly over pastry circles.
5. Cut tomatoes into wedges and arrange evenly around the tart.
6. Place cut figs wedges (one fig can be cut into 2 or 3 wedges) evenly between the tomatoes.
7. Sprinkle the chopped walnuts, salt, pepper, and gorgonzola cheese evenly over each tart.
8. Drizzle a small amount of Fig & Olive Arbequina olive oil over each tart before baking.
9. Bake for 15 minutes or until tart has a golden brown crust and melted cheese.
10. Once it comes out of the oven coat the arugula greens with the Fig Balsamic vinegar, Arbequina olive oil and arrange in a neat mound around the tart.
11. Cover the mound of Arugula with a layer of prosciutto, leaving a space in the center.
12. Serve immediately, or let cool on a rack to preserve the delicate, flaky crust.
13. Garnish with a fresh sprig of rosemary.
What's your go-to dinner party dish? Tell us in the comments or tweet @OKMagazine.