NEWS
Dinners, Drinks, Bigshots and Birthdays…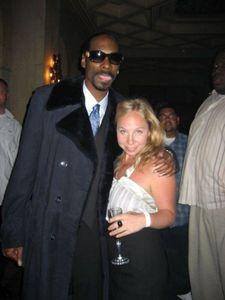 It's only THURSDAY. I'm surprised I made it through Tuesday. My Tuesday: Coffee meeting at outdoor mall The Grove (where the meeting ended with a sweep through Barney's), grown-up meeting at CAA, the most amazing office building ever, despite parking costing nearly $30 for a couple of hours. This trip I thought I'd 'smartened up' when I parked next door at Century City Mall – the free parking there was really just a conduit to spending nearly $200 at AX on the way back to my car.
Article continues below advertisement
Next stop, drinks at Dominc's for Tuesday night flights of red wine, Magnolia for dinner and then, lured by the promise of an outrageous guest that had my friends producing the event drooling all over their non-disclosure agreements – I went to Avalon Hollywood for Snoop Dogg's Our World Live concert sponsored by Microsoft Silverlight and EFG: Entertainment Fusion Group.
I waited. I had friends from out of town join me. I listened to Snoop. I speculated that Michael Jackson was the surprise guest. I waited. I heard others buzz Justin Timberlake was about to walk out. I sipped a Skyy Infusions cocktail. I placed money on the 'special guest' being Eminem. After midnight I finally gave up on the special guests - that I now know to be an MIA Eminem.
Que sera sera. The event was fun. I like Snoop – just sometimes sleep more, and I missed Adam Lambert on America Idol because my TIVO malfunctioned while I was out watching Snoop. Que sera sera.
I don't hold grudges. Although lured out for a non-surprised guest the previous night, I took into consideration it was no fault of theirs and went to EFG's Rembrandt Flores's birthday party at Nobu last night - and it was quite the scene! Gotta go, but check back for more details on that tomorrow ;) xo