NEWS
Director Blake Edwards, Husband of Julie Andrews, Dies at 88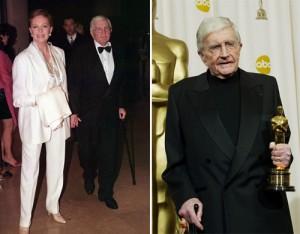 Legendary comedic director Blake Edwards — known for his work on films like Breakfast at Tiffany's, Pink Panther and Victor/Victoria — died Wednesday night in Santa Monica, Calif. The Oscar winner was 88 and husband to actress Julie Andrews.
The New York Times reports Blake died at St. John's Health Center from complications of pneumonia. Julie and other family members were at his side at the time of his death, his rep confirmed.
Article continues below advertisement
Blake saw huge successes as a filmmaker in the 1960's with the films Breakfast at Tiffany's (1961) and The Pink Panther (1963).
In the latter part of his career, Blake's farce Victor/Victoria (1982) was a hit with audiences. The film starred wife Julie, whose character pretends to be a homosexual Polish count who performs as a female impersonator.
The film's screenplay gained Blake his only Academy Award nomination; however, in 2004 he was given honorary award by the Motion Picture Academy for his "extraordinary body of work" that spanned four decades.
Great comedic actor Jim Carrey presented Blake with the award, and the filmmaker proudly gushed about his "beautiful English broad with the incomparable soprano and the promiscuous language" during his acceptance speech.
Blake is survived by five children: Jennifer and Geoffrey, from a previous marriage; Emma, from Julie's first marriage; Amelia Leigh and Joanna Lynne, whom he and Julie adopted in Vietnam in the 1970s.
Watch Blake's acceptance speech HERE.