NEWS
Disney's Debby Ryan on Meeting Justin Bieber & Selena Gomez: "Super Nice to My Nuggets"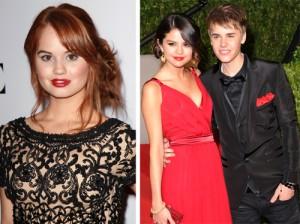 Hot new Disney star Debby Ryan got quite the surprise when two teen megastars recently stopped by the set of her new show Jessie. Who were these teen idols?
OK! GALLERY: JUSTIN BIEBER SINGS FOR HIS BRAZILIAN FANS ON HIS BALCONY & DEBUTS "MISLETOE"
Justin Bieber and Selena Gomez of course! The teen dream couple shocked the young cast members, but Debby said the entire experience was "cool."
Debby told OK! exclusively, "You know they're both obviously iconic. Beyond being iconic, they're trailblazers in their own right, in their own empires. Especially with Justin Bieber, he didn't start out with a microphone and say make me a pop star, he played drums, he played guitar and wrote songs. He was like lets do this. He has a heart for music, that's why he is successful. Those are the kinds of people I love my kids looking up to."
Article continues below advertisement
And by "kids," Debby means her young co-stars on the set of Jessie. In the show, Debby plays an au pair who moves from Texas to New York to care for a wealthy family's four children.
"It (their visit) was so cool and they were such dolls," Debby explained of Justin and Selena's visit to set. "What's so cool about Justin is that while Selena was saying hi to her people and walking around and what not, he was in back taking calls, in the back kind of watching and observing, like the boyfriend."
OK! GALLERY: JUSTIN BIEBER TREATS SELENA GOMEZ TO A HELICOPTER RIDE IN RIO DE JANEIRO
Debby also spilled to OK! how much she respected Justin for respecting his girl Selena!
"He's a total cheerleader from the sidelines, which is great. Selena is obviously his biggest fan as well, which is adorable. They adored each other and they were just super nice to my nuggets, which is really what I care about. They sat and watched a scene or two. They were very supportive. They weren't like I'm here! Which was cool."
Article continues below advertisement
Debby also admires Selena for all of her work and being a Disney inspiration to her.
"Afterwards I texted Selena and I was like 'it was really cool of you.' She was like 'yea they're very cool people, take care of the crew.' It was cool. It was almost like this baton passing," Debby said. "We have a lot of the same crew. It was a very interesting moment because I've known her since I was 15-16 and her show had only been on for a few months on the channel. Even in Texas she had taken the acting classes that I was in, so she was kind of a local … within the acting community, everyone knows of everyone else. So it's a very interesting thing to see her graduate. She's a little bit older then me. It's funny."
You can catch Debby on Jessie every Friday night on Disney.