NEWS
Dita's a Tease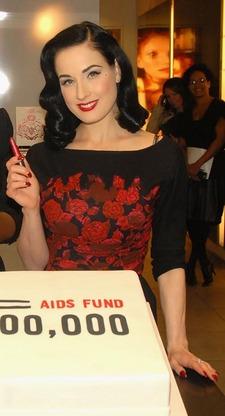 Burlesque queen, fetish model, professional clotheshorse Dita Von Teese, well known for her sultry, retro-glam style, is also one of the faces of MAC Cosmetics Viva Glam line, which in addition to sexying up the lips of ladies everywhere, also helps out a good cause, as all the money from the sale of Viva Glam products goes to the MAC AIDS Fund.
Given Dita's connection to all things carnal, when OK! recently caught up with the former Mrs. Marilyn Manson at the MAC AIDS Fund event in New York City, we were dying to know the latest news from her boudoir. Alas, the raven-haired beauty kept her famous red lips shut tightly on the subject, saying coyly, "I have all kinds of special people in my life," before adding, "don't you wish I would tell you."
Article continues below advertisement
Actually, yes Dita, that's why we asked.
Oddly enough, one topic the sexy siren was willing to chat openly about was her passion... for baking. "I'm an excellent baker," she tells OK!. "I like to do pumpkin pie and fancy, pretty cakes... things like that — Christmas goodies."
We hope that whomever that special someone in Dita's life is enjoys those goodies this holiday season!
By Jocelyn Vena