NEWS
Divorce Filing Expected Today in A-Rod Split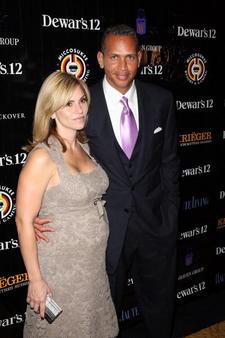 Following OK!'s report last week on the shocking news that pop superstar Madonna and baseball all-star Alex Rodriguez are more than just friends, a lawyer for Cynthia Rodriguez, wife of the New York Yankee, confirmed over the weekend that Cynthia intends to get the divorce process moving in earnest on Monday.
"She has reached the end of her ability to tolerate his continued marital misconduct," explains Earle Lilly, lawyer for Mrs. Rodriguez, in a statement to the New York Daily News. "As a baseball player, the guy's terrific. This is the game of real life, and that's where he's not going to make the all-star team. As a parent and as a husband, he's not going to get voted in."
Article continues below advertisement
It is expected that Cynthia's claim against the slugger will state he has been unfaithful to her several times during their five-year marriage, and that these latest allegations of an affair with the Material Girl was the final, unforgivable straw.
"It's devastating, it's life-changing," says another of Cynthia's lawyers, Maurice Kutner, to the New York Post. "It's caused her tremendous stress, and she's doing the best she can to deal with it."
Kutner goes on to say that Cynthia feels "emotionally abandoned" by her husband and father of their two children.
It has long been rumored in the NYC sports media that A-Rod has an eye for exotic dancers and only a little over a year ago, photographs of Alex out on the town with a Toronto stripper caused his wife to briefly vacate their Manhattan home.
In an attempt to distance herself from the Rodriguez split, Madonna released a statement on Sunday. "I am not romantically involved in any way with Alex Rodriguez," she says. "I have nothing to do with the state of his marriage or what spiritual path he may choose to study."
Stay tuned to ! as this story develops throughout the day.