NEWS
DJ Enferno Dishes on Madonna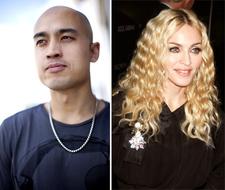 If you've ever wanted to know what it's like to work with Madonna, the Queen of Pop and undeniable music legend, keep reading.
DJ Enferno, who collaborated with Madonna on her tour, told OK! all about the Materia Girl. Her music director just happened to catch one of his live shows, and sent him a text.
"I always tell people, you never know when you're going to get a break or your shot in life so you have to keep doing what you're doing," he tells OK!.
Article continues below advertisement
So what's she like to work with?
"She's amazing. I was a little intimidated going in to work with her," he reveals. "She's a very clever and witty person. She'll have a joke or something or one of us will have to tell a joke. She makes it very loose."
She's not all fun and games though, completely the opposite, dishes Enferno.
"She is so on the go. She would go from our rehearsal to the dancing rehearsal. She's like a machine. That's one of the things about her that's very fascinating. After our rehearsals, she's got to go across the street and workout physically with the dancers and then I don't know what she does in her off days," he admits. "It's like clockwork. She just goes hard. There's no slacking."
Somehow we're not surprised that Madge is no slacker.