NEWS
Do Ashton Kutcher's "Real Men" PSAs "Dumb Down" the Cause?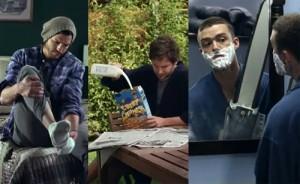 As part of Ashton Kutcher and Demi Moore's DNA Foundation, which works to eliminate sex slavery worldwide, the couple have had help from some top celebrity men to make funny PSAs. But not everyone is laughing at them.
OK! VIDEO: WATCH SCARLETT JOHANSSON'S PSA TO SUPPORT PLANNED PARENTHOOD
The commercials feature stars like Justin Timberlake, Bradley Cooper, Sean Penn and Jamie Foxx shaving, eating, ironing and watching TV as men would do those takes. They conclude with the message, "Real Men Don't Buy Girls."
Article continues below advertisement
But some critics don't think the commercials are appropriate for the message.
"This is what happens when celebrities do an issue divorced from the movement," Nora Ramos, executive director of the Coalition Against Trafficking in Women, told FOX411. "Once you choose an issue and don't do it in collaboration with people who have been doing this for a long time, this is what you end up with. There is a general dumbing down that is going on and this is an example of dumbing down a social justice movement with the narrowest message possible."
But Ashton defended the PSAs to Hope140.org (via E! news) saying he and Demi decided to use humor to help "engage and educate."
"We came up with the concept of the 'Real Men Don't Buy Girls' campaign, which aims to engage people, specifically men, in the issue. To do so, we filmed short, funny videos about things 'Real Men' do, starring high-profile influential men and women," he explained. "The concept of the campaign is that real men do a lot of silly, even foolish things. But one thing they don't do is buy children for sex. That's not funny, and real men don't do it."
What do you think of the PSAs?
OK! NEWS: JUSTIN BIEBER & ASHTON KUTCHER TO STAR IN MOVIE TOGETHER?
Watch some below!
Ashton Kutcher
Bradley Cooper
Justin Timberlake
Sean Penn
Jamie Foxx