NEWS
Do Something Awards 2011: Finalist Adam Lowy Makes a Move For Hunger!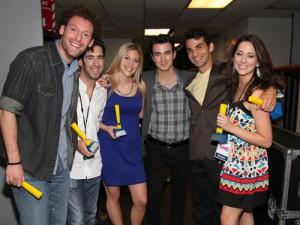 While we all love the glitz and glamor of a big Hollywood event, more important than the pomp is those who give back to their community. That is what VH1's Do Something Awards is all about — recognizing not only celebrities for their charitable work but young "do-ers" for giving back to the community!
DoSomething.org has begun its official voting period for the 2011 Do Something Awards which extends through Aug. 14 at 9 a.m. — the day of the hotly-anticipated award show!
Article continues below advertisement
Fans have the chance to vote for their favorite celebrities who give back and inspire their fans to get involved as well. Categories include Do Something Movie Star —Kristen Bell, Orlando Bloom, Josh Duhamel, Scarlett Johansson, Daniel Radcliffe and Olivia Wilde — Do Something Music Artist — Justin Bieber, Nick Jonas, Lady Gaga, Adam Lambert, Linkin Park and The Black Eyed Peas — and many more. (See the full list of celeb nominees HERE)
OK! GALLERY: STARS DID IT UP AT VH1's DO SOMETHING AWARDS
In addition to announcing the celebrity winners, one young "do-er" (age 25 and under) will be receiving a grand prize of $100,000 for their cause.
"This is not your grandma's award show," Nancy Lublin, the CEO and Chief Old Person of DoSomething.org, said in a statement. "There will be no violins and no ballgowns."
OK! caught up with nominee Adam Lowy, one of the five candidates eligible for a $100,000 grand prize for his cause, and he shared about his homegrown nonprofit organization, Move for Hunger.
Article continues below advertisement
The 25-year-old Jersey Shore native (not the fist-pumping Jersey Shore, but the Asbury Park/Bruce Springsteen area) is following his passion and getting involved the best way he knows how — moving trucks!
Adam's great-grandfather started a moving company over 90 years ago, and in working with his family, Adam has seen firsthand the amount of food that people throw away when they move. He recognized the potential of this wasted food and founded Move for Hunger, which works with moving companies to strengthen our nation's food banks!
OK! GALLERY: STARS DO SOMETHING IN THE BLUE CARPET
Read OK!'s interview with Adam below and be sure to vote for him or one of the other young "do-ers" — Taryn Guerrero Davis of the American Widow Project, David Schwartz The Real Food Challenge, Sarah Cronk of the Sparkle Effect and Mark Kabban of Youth Leaders Living Actively (YALLA) — HERE!
Where does your passion for charity work come from?
Growing up, my family had always been really involved in the community. "You can't take it with you," my dad always used to tell me. I never used to think I'd be involved in charity. I went to school at Arizona State University (Go Sun Devils!) and received my degree in marketing. After graduating and working a "real job," I started thinking, why can't I do something with my life that actually helps people? There are so many people struggling in this country. I felt the need to get involved.
Article continues below advertisement
What was the genesis of the "Move for Hunger" idea?
My family has owned a moving company in New Jersey for almost 90 years. In fact, my great grandpa started it way back in the day. This means two things— 1) I've never needed to hire a moving company and 2) I was working on a truck when I was little whether I liked it or not (You don't have much choice when your dad owns the company.) After so much time in the moving business, we see a ton of "stuff" being thrown away. Unfortunately, a lot of this "stuff" was food that could be given to a family in need. We started asking our customers if they wanted to donate their food to the food bank, and it turns out — they did! We picked up all the food and brought it over to our local food bank.
Within two years, we've grown to work with over 150 movers in 35 states. Together, we have delivered over 325,000 pounds of food. This is enough to provide over 250,000 life-saving meals to those in need! We've taken an entire industry and mobilized them to fight hunger. Every day it gets more excited as more moving companies join our cause!
What is unique about your charity?
We are the only hunger relief organization on the planet that is fighting hunger in the way we do. There was always this existing network of transportation companies out there. Move For Hunger unites them for a common purpose — hunger relief. One in six Americans simply do not have enough to eat. One in seven Americans relocate each year. Move For Hunger has a HUGE opportunity to fill the pantries of our nation's food banks. More importantly, the most difficult time of the year for food banks are the summer months. Kids are out of school and do not receive their reduced or free lunches. This also happens to be the busiest time for moving companies. We have that much more opportunity to educate those on a year-round basis to get involved in helping families in need.
Article continues below advertisement
Are there other programs similar?
There's no one else out there doing anything like this. That's what makes it so cool!
How large is your team?
We currently have two full-time staff members (myself included), an awesome board of directors, and the best group of interns and volunteers who ever walked the earth!
Who is your biggest competition?
I had the opportunity to meet the other four finalists, and it is crazy to be considered among them. Obviously, I'd love to win this thing, but the others are also doing amazing things! To be quite honest, I'm just happy to have the opportunity to share more information about Move For Hunger on VH1. That alone is a win! But, of course we've still got our fingers crossed for the $100k.
Why do you think VH1 chose you as a top five finalist?
Besides my dashing good looks, fine taste in music, and unmatchable wit? Ha! I think they recognized the true potential of Move For Hunger to help millions of struggling families across America. We've done so much with so little, and $100,000 could really help take our organization to the next level.
Who are you most excited to see on the red carpet at the 2011 Do Somethings?
Article continues below advertisement
Not gonna lie, I'm a pretty big Jane Lynch fan. Even going back to Best In Show. She is hilarious.
OK! NEWS: JANE LYNCH RETURNS TO HOST THE 2011 DO SOMETHING AWARDS
Which celebrity's philanthropic work do you admire most?
There are so many celebrities doing so many great things. The one that sticks in my head the most is Matt Damon. I don't know, but there's just something about him that makes me believe that he is committed to his causes and doing them for the right reasons, not just for publicity. He is active, vocal, and sincere. I truly respect him for using his celebrity power to make change.
Who from Hollywood would be your dream spokesperson? Have any celebrities expressed interest?
So far, we haven't had any celebrities knock on the door of our small office in New Jersey. But we'd be happy to answer if they did. I don't know WHO would be the best Hollywood spokesperson for us, but I can tell you, we'd love to work with someone who shares our passion for hunger relief in this country. More than just a great voice, but rather someone who is dedicated to helping us make a difference. Are there any celebrities out there who'd like to help? Come visit me in Jersey!
Article continues below advertisement
Do you think Hollywood is vocal enough about hunger?
I think hunger in this country is one of those issues that just doesn't get mentioned enough. Everyone always talks about hunger as an issue plaguing other nations, when one in six Americans are struggling. I hope Move For Hunger can help shed some light on the growing need in our country.
Do you feel that A-listers are generous enough with their wealth/donations?
There are a ton of A-Listers who give a ton of money to various causes. While money is great for any organization, I think we need more celebrity advocates. If more celebs would step up and champion their causes through PSAs and physically getting involved, I think the organizations would flourish even more. It's one thing to throw money at a problem. It's another to Do Something.
What was it like hanging with Kevin Jonas at the B.B. Kings when they announced the top five finalists?
Article continues below advertisement
So I heard Kevin Jonas was going to be at the Kick Off, and at first I was thinking "This is the last person I ever thought I'd meet." We were all hanging backstage before they announced us, and he turned out to be really cool and down to earth. We talked about the local music scene in NJ, and he couldn't be more excited to be working with Do Something on this event. While I admit to not being the biggest Jonas Brothers fan in the world, I really respect Kevin for all he's accomplished and for what he's doing to help young people make a difference. Plus — now I get to brag to my little sister how I met a Jonas Brother.
Jane Lynch! Could you ask for a better host! How would you like to see her change it up next year? What was it like when she announced your name as one of the finalists in the special video message?
It was so cool to hear Jane say my name. Mind – Blown. I'm sure she's going to be as crazy and inappropriate as ever at the awards show, and I can't wait to meet her!
Article continues below advertisement
What will you do with 100,000 if you win?
The $100,000 prize would be amazing for Move For Hunger! We would be able to put together even more hunger relief programs targeting college students, sign up more movers to fight hunger, spread more awareness about our cause, and put more food in the hands of the people that need it most. To win would truly be a game changer for our organization.
How do you feel about the billions of dollars being pledged by our govt. to international aid, when so many hunger and poverty problems exist stateside?
America has always been the country that helps others without expecting anything in return. It's one of the things that makes us so great! There's a lot of hunger and poverty across the world, however, I think we need to take a step back and reexamine what is truly going on in our country. I'm all for helping other nations, but we need to take care of our own first. There is no reason that 17 million American children should be going to bed hungry.
Article continues below advertisement
What advice do you have for young people looking to get involved?
Have you ever heard the expression "You're going to do great things someday"? Well my advice is, don't wait for "someday." Do it today. When we're young, we have more opportunities to talk to people. We're more outgoing, persistent, and enthusiastic than some old people in the business world I've met. Dream big and act bigger! The worst anyone can say to you is "No." And if you truly believe in what you're doing, chances are, people will begin to say yes to you. Most importantly – visit DoSomething.org for an incredible list of resources to help you take action. They have helped my idea grow into the organization it has become today, and they have an amazing team of people working to help young people make a difference.
Check out Adam and the Move For Hunger crew in the clips below and visit MFH's website and YouTube page for more info. on this amazing cause.
Winners will be announced at the on Sunday, Aug. 14 at the 2011 Do Something Awards hosted by Jane Lynch!
To cast your vote, visit DoSomething.VH1.com!