NEWS
Doctor: DJ AM and Travis Barker Will Recover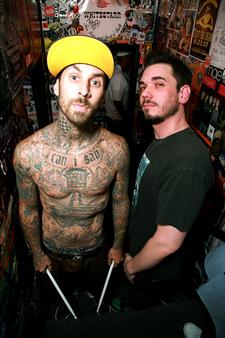 After surviving a jet crash that left four others dead in South Carolina, Travis Barker and DJ AM (real name Adam Goldestein) are expected to fully recover from the second- and third-degree burns they sustained in the incident on Saturday, says Dr. Fred Mullins, executive director at the Joseph Still Burn Center in Augusta, Ga., according to CNN.com.
Travis, who was burned on his torso and lower body, and DJ AM, who suffered burns on his arm and head, could still be hospitalized for weeks after the crash. Investigators are now looking into whether a blown tire could have contributed to the crash.
Article continues below advertisement
TMZ also reports that a source says DJ AM is "ambulatory and in good spirits."
The four dead have been identified as pilot Sarah Lemmon, 31, of Anaheim Hills, Calif., co-pilot James Bland, 52, of Carlsbad, Calif., Travis's assistant, Chris Baker, 29, of Studio City, Calif., and Charles Still, 25, of L.A., Calif.
Air traffic controllers reportedly "saw sparks coming from the runway" before the crash. Investigators don't know if that was from the aircraft or its engines.
South Carolina resident, William Owens, was driving down a highway next to the airport when he said he saw a fireball go across the road. He told local TV station WIS News 10:
"I didn't know what I had seen – it was maybe 800 feet in front of me, but as I approached it closer though I made out the fire. By then I was able to see the tail of the jet and I recognized it as a jet," Owens said. "the plane It's in flames and the fuel is running across the road and I had to cross the highway."
According to Owens, two men (presumably Travis and DJ AM) were running around and stripping down to extinguish themselves. He said he asked the men if there was anyone else on board the plane and they told him there had been four more with them.
"We turned to the jet to try and see if there was anything we could do, but immediately, there was nothing anyone could do," Owens said.
Barker and AM were in Columbia, S.C. Friday night for a T-Mobile sponsored concert at Five Points, a popular shopping district.