NEWS
Does Jessica Have a New Quarterback on Her Mind?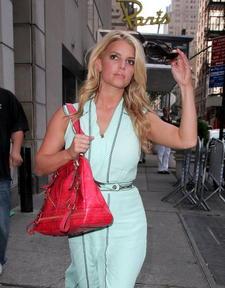 While pop star turned country singer Jessica Simpson might be romantically involved with Dallas Cowboys quarterback Tony Romo, she had a different football hunk on her mind Wednesday night — future Hall of Famer Brett Favre!
While attending a party hosted by her little sister Ashlee Simpson at new L.A. restaurant The Stork, an OK! spy overheard the Employee of the Month star talking football with a fellow partygoer. The conversation quickly turned to Favre, the legendary Green Bay Packers QB who may or may not be returning to the field this season.
Article continues below advertisement
"I hear he might go the Minnesota Vikings," Jess, who is apparently now a gridiron insider, told her pal. "He's the oldest player in football but he loves to play, like Tony."
(Note to Jessica: Favre is only 38 and not the oldest player in football.)
And it's not just their desire to play the game that Brett and Tony share. Tony is a Wisconsin native; Brett is a folk hero in Wisconsin where in the course of 16 seasons he has shattered most of the NFL's passing records and has never missed a single game. Tony has repeatedly gushed about how Favre is his idol and his playing style has often been compared to a young Favre.
But it doesn't look like Tony has anything to worry about. In the new issue of Elle, Jess gushes about her man: "Most of the guys I dated were captivated by my heart, but they had different ways of trying to get to me. Tony understands me... He appreciates my talent. He's the first person I've spiritually connected with."