NEWS
Does 'Sister Wives' Kody Brown's Ad Job Add Up?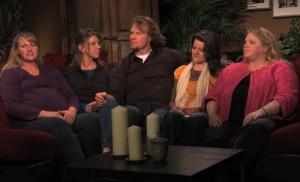 Kody Brown has a lot of financial responsibility as the primary caretaker of his four wives and 15 children — 12 of his own, three step-children with newest wife Robyn and one on the way with wife of 16 years, Christine. With a growing family to support, Kody must have to work pretty hard as an advertising salesman to make ends meet, yet he seems to have the cash flow for luxury expenses, like his Lexus.
Article continues below advertisement
The family from Lehi, Utah, addressed the issue of jobs with Oprah Winfrey on her talk show last week.
"We all work," Kody said casually, as Meri added, "We just learn how to stretch our dollars like any other family."
However, Meri also admitted to Oprah that she was recently terminated from her job in the mental health industry.
"(They) felt they needed to protect the company," she explained, expressing that she was heartbroken.
"I loved my job... I understand where they were coming from."
According the the Web site PayScale, an average salary for an individual with an ad sales position ranges from $32,000 to $70,000 per year.
In addition, the cost of raising a child from birth to age 17 is over $100,000, according to a recent survey conducted by the U.S. Department of Agriculture.
While Kody's wives contribute through small jobs, what do you think?