NEWS
Dollar Signs for How I Met Your Mother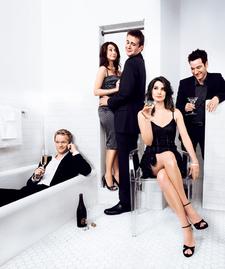 Can you hear the cash registers ringing?
The cast of CBS' How I Met Your Mother, Neil Patrick Harris, Josh Radnor, Jason Segel, Cobie Smulders and Alyson Hannigan just signed deals with 20th Century Fox TV to raise their salaries, garnering them between $90,000 and $120,000 per episode, due to the show's solid ratings and popularity, according to reports.
That might not sound like a lot (remember Friends stars nabbing $1 million per episode?) but in these tough economic times, any raise is still a raise.  The raises represent between two and three times their previous salaries.
Article continues below advertisement
Fans of HIMYM will also be happy to know that the show has added an extra year on to the actors' original contracts of seven years.