NEWS
Dominic Monaghan Looks Forward to the Final Season of 'Lost'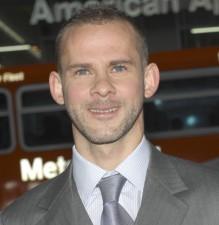 FlashForward star Dominic Monaghan might have a new show, but he still fondly remembers his previous TV role on Lost. The star shared his favorite memory working on the show with reporters, as well as what he wants to see on the highly-anticipated final season.
Dominic spent several years playing Charlie Pace on the hit show and racked up a lot of happy memories while doing it, but some he wasn't willing to share!
Article continues below advertisement
"My happiest memory is probably pretty private, you know?" Dominic told reporters today during a press conference for the Television Critics Association's winter press tour in Pasadena. Hmm, perhaps he was referencing his relationship with former costar Evangeline Lilly!
"My happiest memory of the show is probably working with Terry O'Quinn; working with Jorge Garcia was always really fun. I loved working with the baby. Made some good friends. Had some great surfs," he recalled.
Working in Hawaii wasn't all fun and games though.
"There were great elements to it," he explained. "There were also tiresome elements to it, as is the case in life. There's good and bad to every scenario but overall, it was a great journey."
So what didn't he like? Not having much privacy!
"It was a small island and you get hounded," Dominic said. "People know where you live and photographers follow you around and it's a little annoying but you work out ways to waste their time and get on their nerves and eventually, they leave you alone."
Dominic is looking forward to see the show come to an end answer all the burning questions.
"I'm excited to see what they do and I hope they maintain the quality they set for themselves and answer all the questions the fans have been waiting six years for and writer/producer Damon Lindelof is up to the task," Dominic admits. "He's a very smart guy."
We all hope he's right!
Reporting By Carole Glines