NEWS
Don Kirshner, Kansas Music Exec, Dies at 76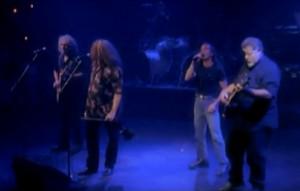 Songwriter, manager, publisher and music executive Don Kirshner died of heart failure in a Florida hospital on Monday. He was 76.
OK! NEWS: TRISH KEENAN DIES FROM PNEUMONIA; A LOOK BACK IN BROADCAST VIDEOS
Promoter Jack Wishna tells The Associated Press that the "Man With the Golden Ear" entered a Boca Raton hospital last week with an infection.
Wishna calls Don an icon who touched many lives in the music industry.
Article continues below advertisement
According to Billboard, he was the host of his own "Don Kirshner's Rock Concert" in 1972 and leaves behind his legacy of music including: Neil Diamond, Bobby Darin, Carole King, Neil Sedaka, the Monkees, the Archies and Kansas.
OK! NEWS: SEINFELD ACOTR BILL ERWIN DIES AT 96
Phil Ehart, Kansas drummer and manager, said his band "owes its 38-year career to Don Kirshner, who signed us to his label in 1973. We were six bumpkins for Topeka that wore jeans, t shirts, overalls and cowboy boots, and our music was complicated with all kinds of time signature changes. But he saw and heard something in us that no one else realized, and we as a band are very grateful that he did. Thank you, Don. We will miss you."