NEWS
Donald to Carrie Prejean: You're Fired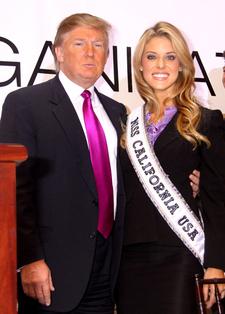 It's an age-old story: If you don't do the job you're hired to do, you're out, even if you're a beauty queen. Donald Trump released a statement today saying he fired Miss California USA, Carrie Prejean, after she failed to honor her commitments to that post.
Carrie was wrapped up in a bit of controversy after the Miss USA pageant, when she answered contest judge Perez Hilton's question abou gay marriage by voicing her opinion that marriage should only be for "opposite" couples, meaning heterosexual. However she's lost her post because she didn't fulfill the terms of her contract, not because of her views.
Article continues below advertisement
First runner-up to Carrie, Tami Farrell, will take over the duties of Miss California from here on out.