NEWS
OK! Exclusive: Donald Faison Reveals If He Would Sign On For A Clueless Sequel And How His Kids Have Playdates With Jessica Simpson's!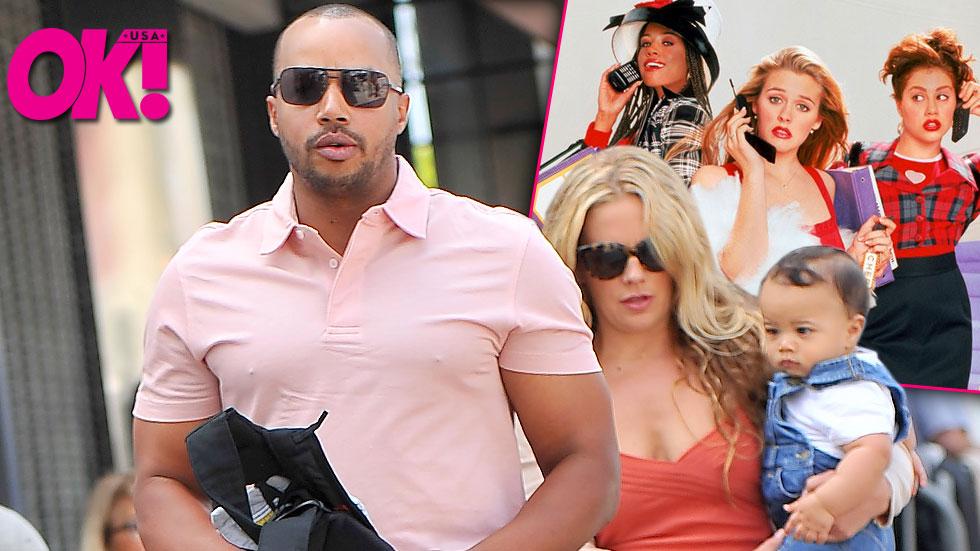 Donald Faison and his wife CaCee Cobb certainly have their hands full with son Rocco entering his terrible twos and two-month-old daughter Wilder keeping her parents up all night! But despite their "crazy" household, Donald isn't slowing down!
In an exclusive interview, The Exes star revealed if he would ever consider signing up for a Clueless reunion, how he's raising two kids under 2 years old and how he's teaming up with the National Pork Board just in time for summer!
Article continues below advertisement
OKMagazine.com: You and your wife CaCee Cobb welcomed your second child, Wilder, in April. How has life changed now that you have two young children?
DF: Everybody told us two under 2 is really difficult. We were like, 'Yeah but in time it will be so good. They'll be so close in age, that will make them best friends.' Nobody told us about the period that exists between newborn and 3 and it is crazy in our house. We have one kid who is entering into the terrible twos and we have one kid that doesn't sleep at night. My wife and I look at each other and say, 'It's worth it, it'll all be worth it.' And it really is man, we have two amazing kids.
OKMagazine.com: How are you planning to celebrate Father's Day with your family?
Donald Faison: My father's day plans are to hang out with the family. Hopefully, my kids will give me a gift like a card or something like that and grill out by the pool.
OKMagazine.com: Your wife is best friends with Jessica Simpson. Do your kids ever have play dates with Maxwell and Ace?
DF: Yeah they hang out all the time! Jessica is Wilder and Rocco's godmother.
Article continues below advertisement
OKMagazine.com: This year is the 20th anniversary of Clueless. Would you be interested in a Clueless reunion or sequel?
DF: It would have to be right. We're all so old now. We're all on different paths too. Paul Rudd is an ant laughs. How do you do a movie with an ant? Is there going to be a special camera involved? How do Cher and Josh kiss if Paul Rudd is the size of an ant? I don't know how it works out. Because of that, because of the height issue that we're dealing with right now, I don't know if a Clueless reunion is around the corner. But you never know.
WATCH: Clueless's Murray and Dionne Reunite on Donald Faison's New Show!
OKMagazine.com: Do you think your character would've ended up with Dionne?
DF: No, they're divorced. There's no way they would be together. Maybe they tried to make it through college and everything like that. I don't think it worked out. If it did, they had beautiful kids.
OKMagazine.com: Tell us about teaming up with National Pork Board and how you plan to bring flavor to Americans this summer.
Article continues below advertisement
DF: It was a no brainer for me because I love to grill out. I have this signature dish that I do all the time, it's pork ribs. I cook them every time there is a sporting event on. They introduced me to their website, porkbeinspired.com/grillcrashers, and there I found a bunch of recipes on how to cook pork chops. Just try to remind Americans that pork is a great alternative when grilling.
OKMagazine.com: How could our readers get involved?
DF: If you have time, take a #grillfie. Be proud of what you just cooked. Take a picture of yourself and what you cooked. Post that bad boy on your favorite social media outlet and #grillpork and we'll find you.
Do you think there should be a Clueless sequel? Tell us in the comments below or tweet @OKMagazine! And check out the video below to see Donald crash a beach with his grill!