NEWS
Donald Trump Autographed Copy of President Obama's Birth Certificate on Ebay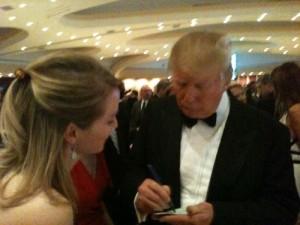 To get a job in the U.S. State Department, you certainly need to be smart. Katie Jacobs Stanton, a former White House employee and current head of international strategy at Twitter, devised an ingenious plan for the White House Correspondents' Dinner: Find Donald Trump and get his autograph on a copy of President Obama's long-form birth certificate.
As Stanton works for Twitter, she was sure to Tweet updates on the success of her mission.
Article continues below advertisement
"Dear America, you are welcome #theDonald" she Tweeted along with a picture of Trump (who recently requested that the President prove his citizenship by revealing his birth certificate) signing Obama's proof of citizenship!
Stanton also Tweeted the below picture of the actual autograph.
And Stanton's plan was all for a good cause! The mom of three posted the signed copy of of the certificate for an auction on eBay Giving Works and will donate 100 percent of the proceeds to Room to Read, a nonprofit organization based in San Francisco that helps educate children around the world, the Huffington Post reports.
And someone bit right away, offering $1,000 — it was a buyer who wanted Obama's certificate with Trump's John Hancock immediately.
So Stanton once again turned to Twitter to ask her followers whether that was a good price, and they urged her to hold out.
The document will go to the highest bidder by May 9; the most recent bid was $1,275!