NEWS
Donald Trump Confirms 'Celebrity Apprentice' Cast; Ivanka Weighs In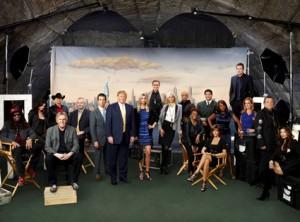 It's officially okay to start talking about the new season of Celebrity Apprentice now that Donald Trump finally announced the cast list — after it already leaked in October!
OK! NEWS: THE "R" LIST — CELEBRITY APPRENTICE — ALL A BIG SETUP?
Donald gave the official unveiling of the new cast members on Late Night with Jimmy Fallon last night, PopEater reports.
The cast includes: LaToya Jackson, Gary Busey, Star Jones, Atlanta's Real Housewife NeNe Leakes, baseball's José Canseco, Lisa Rinna, David Cassidy, supermodel Niki Taylor, Survivor nudist/winner Richard Hatch, Oscar winner Marlee Matlin, Meat Loaf, Mark McGrath, Playboy Playmate Hope Dworaczyk, Lil Jon, Dionne Warwick and country music's John Rich.
Article continues below advertisement
OK! NEWS: RACHEL UCHITEL ALREADY FIRED BY DONALD TRUMP
OK! spoke exclusively to Ivanka Trump on the new Celebrity Apprentice cast and how she feels about it.
"You know it's interesting this is my first time seeing everyone together and I can start to see the sparks fly, who is more reserved and held back, who is more aggressive, I think it will be a very interesting season," Ivanka told OK!.
Is there one cast member who already stands out?
"The fact that a few people will call themselves villains prior to the show beginning is something I find to be unusual and very interesting," she revealed.
How will the teams work this season?
"Traditionally we separate male and female and then ultimately start to combine and switch around," Ivanka explains to OK!. " They form their little groups."
And the guys already said they want to be together!
"Yea, that tends to happen," she said.
So any clue about the challenges?
"They're fun. We try to find things that allow people to apply the talents they've learned through their careers in a very random way, so nothing seems to be a direct connection," Ivanka explained. "Whether it's selling cupcakes to renovating a hotel we always have very interesting opportunities."
Reporting By Rachel Levine