NEWS
Donald Trump Gives Marriage Advice to Ivanka, Matches Omarosa to Dennis Rodman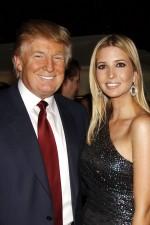 When Donald Trump watched daughter Ivanka tie the knot with New York Observer owner Jared Kushner last month, the thrice-wed Apprentice mogul had one lesson to share.
"The key to marriage is you have to have somebody that you can relate to, who can be your friend," he tells me during A Concert For Autism Speaks hosted by Jerry Seinfeld and featuring a performance by Bruce Springsteen held Tuesday at NYC's Carnegie Hall. "They have a very great friendship and relationship."
Article continues below advertisement
He adds, "He's a great guy, and I think it's going to be a great marriage."
What was the most special part of the day?
"I think when she walked down the aisle, she just looked very beautiful," he says. "She's my baby."
Speaking of couples, original Apprentice contestant Omarosa Manigault-Stallworth is on the dating market post-divorce in the 2010 reality show Omarosa's Ultimate Merger, which Donald is executive-producing.
What Celebrity Apprentice contender might make a good match for her?
"Dennis Rodman," he says. "Dennis is a piece of work, I'll tell ya."
As for what qualities Omarosa needs in a man, The Donald says, "He's gotta be strong. Either very strong, or very weak. There's no in between. He's going to have to be a total killer or a very weak person."
Donald finds that date night helps his marriage with Melania, whom he wed in 2005. They leave son Barron, 2, with a sitter for the evening.
"He's very smart," Melania says. "He speaks three languages. He speaks my language, Slovenian, English and French."
A Concert For Autism Speaks raises $1.6 million to fight autism.