NEWS
Donald Trump Talks Melania Joining 'Real Housewives of NYC'; Wishes Michael Douglas Well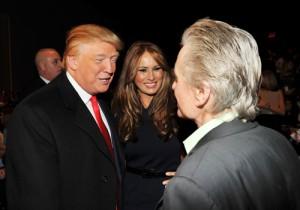 Donald Trump sat down with The Insider and extended his well wishes to Michael Douglas. The mogul also addressed wife Melania's offer to join The Real Housewives of NYC.
"They always want my wife to be on Real Housewives, but it's not her thing," Donald . "She's doing QVC and she's doing great. The show wouldn't be for her."
Donald also offered words of encouragement to pal Michael Douglas, who is battling Stage 4 throat cancer.
Article continues below advertisement
"He's going through a lot but we all hope he's going to be ok. He's such a great guy and an iconic figure. He's a great fighter. He's got the support of a fantastic wife Catherine and they will pull it off together."
Donald also commented on Michael's ex-wife Diandra suing the actor for partial earnings from his upcoming film, Wall Street 2: Money Never Sleeps.
"I think it's a very ill-timed and unfair lawsuit and I don't think Michael should be liable for anything having to do with paying money for something that's taking place now," he said. "It's inappropriate and it's a lawsuit that should be dropped."
The all-new season of The Apprentice premieres September 16th on NBC and Donald said, "It's going to be something very special. There are a lot of celebrity cameos."