NEWS
Donatella Versace "Very Happy" for Halle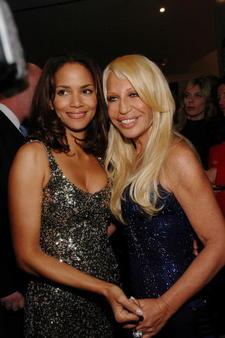 Halle Berry owes her newest bundle of joy, daughter Nahla Ariela, to one woman -- Donatella Versace.
The fashion maven was the person responsible for Halle and model-beau Gabriel Aubry's hook-up at a November 2005 photo shoot.
"Yeah, I pushed a little bit," she tells OK! at Versace Menswear at Barneys New York. "I knew both of them were single at the moment. I knew what Halle went through with men, and Gabriel's been there. I thought they were a great couple together. I'm very happy."
Article continues below advertisement
That was a good call on the 52-year-old's part as the couple welcomed Nahla, their first child, . Though she hasn't yet met Nahla, Donatella is certain she'll be seeing a lot of her in the future.
"I'm sure I will design clothes for her," she says.
And what does she think of the moniker?
"I love it. I wish it was Donatella."