NEWS
Donny & Marie Offered $$ to Pose Nude!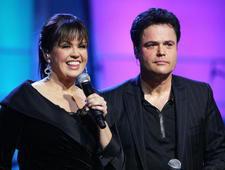 The world could've seen a whole lot more of Donny and Marie Osmond!
In the wake of Miley Cyrus' provocative, nearly-nude , the famous brother-sister duo reveal to The Insider that they fielded numerous offers to strip down to their birthday suits during their youthful heyday.
"I was offered millions of dollars to pose nude and all these other things, but you know always in the back of my mind was the thought that I'm going to have children someday," Marie shares.
Article continues below advertisement
Her big bro felt the same way. Courted by Playgirl relentlessly, Donny says he repeatedly turned down their offers because he didn't want to take the easy way out to keep his name in the headlines.
"I wouldn't go that way and I didn't go that way," he says. "I know it would have worked as far as creating controversy and changing my image, but I would rather do it the hard way with my music and do it the right way."
As for Miley's photos, the two are against the photos of the bared back singer, deeming her "too young" to participate in the shoot. The Hannah Montana star, Marie believes, succumbed to industry pressure to grow up too soon.
"You get so much so quickly and it's about the pleasure instead of the work ethics," she says. "I understand what she's going through. I had my first hit record when I was 12."
Donny, for his part, feels Annie Liebovitz ought to shoulder most of the blame. Having worked with her a few times as a teen, he recalls the famed photographer as a pusher.
"She shot me when I was about 14 or 15 years old for the cover of Rolling Stone. It's always, 'Push it a little farther,' he recalls. "She went a little too far with that picture of Miley."