NEWS
Donny & Marie's Father Passes Away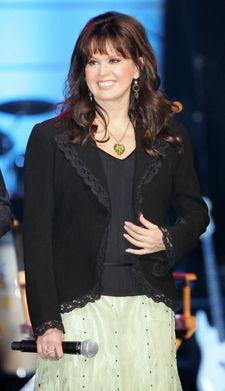 George Osmond, father of Donny and Marie, passed away Tuesday morning, Entertainment Tonight reports, less than a day after his daughter paid tribute to her parents' love story on Dancing With the Stars. He was 90.
Marie earned a big score of 28 for her retro cool quickstep that was based on the 1940s romance of her father and mom, Olive, and told OK! after the show the number was dedicated to her father, who had been in poor health for a while.
Article continues below advertisement
"I told my dad to watch tonight and dedicated it to him," Marie, who made herself up to look like her mom, told OK!. "I did it for my parents. My dad was a sergeant in the army. My mom worked in the military depot as a secretary assistant. And when my dad walked in, she said, 'Oh. I'm going to marry that man.'"
Olive passed away three years ago at the age of 79.
Meanwhile, Donny had spoken to ET only yesterday about his father's condition and his recent visit with him.
"I walk in and he just lights up and he says, 'Donny...I love you.' He doesn't say much, but when he saw me and said, 'Donny I love you'... my 90-year-old dad... who can't do much, but when he says, 'I love you,' that's all he needs to do," the singer said.
The Osmond clan was due to appear on The Oprah Winfrey Show on Friday, where the talk show queen will pay homage to the famous family. It is unknown how the appearance will be affected.
"It's celebrating my brothers' 50 years in the entertainment business — not mine, I'm not that old yet," Marie, 48, told OK!. "But it's really an honor. She's chartered a whole jet to fly all the Osmonds — 120 something of us. It should be a really fun show. If we stay in the competition after Tuesday night, my partner Jonathan Roberts is going to dance a little bit with me on Oprah."
George's death isn't the first passing the ABC reality show has dealt with this season. Jane Seymour's mother, Mieke Frankenberg, passed away last month at the age of 92, forcing the actress to miss a taping.