NEWS
Don't Quit Your Day Job? Scarlett Johansson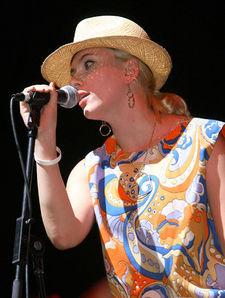 When Hollywood sexpot and muse announced she was getting into the music industry, the prospect was met with a lot of doubtful guffaws, especially when she further announced it would be a Tom Waits cover album.
Indie music bloggers like Pitchfork and Stereogum seemed unsure of what to expect. And as film critic Phil Villarreal, of philmguy.com, puts it to OK!: "You won't find a more beautiful or talented actress, but she sounds just like . It's like those identity-theft commercials where the grandma speaks in the voice of a trucker. Unless her album is full of covers, this could get uglier than Monopoly night at the ."
Article continues below advertisement
But, despite a brief onstage appearance at the Coachella music festival this past April, most music fans have yet to hear what the curvy actress has to sing. She's reportedly been in the studio with members of the Yeah Yeah Yeahs and got David Sitek of indie darlings TV on the Radio to produce her album. When Pitchfork asked Tom Waits what he thought of the prospect, he had this to say: "I don't know if I'm excited to hear it, but I'm curious." Seems like that may be the general consensus when the album hits the streets sometime in the undisclosed near future.