NEWS
'Dora the Explorer' Star Caitlin Sanchez Sues Nickelodeon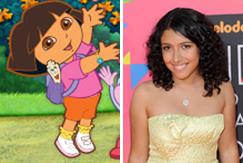 Caitlin Sanchez, the voice of Dora the Explorer, is suing Nickelodeon for breach of contract and claims she is owed millions from the network.
OK! NEWS: KELLY RUTHERFORD'S DAUGHTER LOVES DORA, JEWELS
Caitlin, the voice of Dora since 2007, and her family and has filed a lawsuit against Nickelodeon claiming she is owed millions for residuals, merchandise tie-ins and other related work.
"Caitlin and her family hoped to resolve their concerns short of filing any complaint, but were unfortunately forced to sue when they believed that Nickelodeon was not engaged in good faith discussions," John Balestriere, Caitlin's attorney, told E! News.
Article continues below advertisement
"I've never seen as convoluted and inscrutable a contract as I've seen here," he added. The lawsuit alleged that Nickelodeon misrepresented itself while contract terms were initially being worked out, so Nickelodeon and the parent company MTV Networks were "unjustly enriched in the tens of millions of dollars."
The suit claims Caitlin made $5,115 per episode, but for 160 extra hours of recording and 400 hours of promotional work she was unpaid or underpaid. The 14-year-old is also allegedly still owed for at least 325 airings and re-airings of the episodes as well as her being paid for merchandising profits.
OK! GALLERY: JESSICA ALBA DRESSES UP AS DORA THE EXPLORER!
However, David Bittler, a network spokesman, called Caitlin's lawsuit baseless and that she was "well-compensated."
Caitlin has finished her work on Dora the Explorer now that her voice has changed, but Bittler says the network offered her other work.
Dora the Explorer is now in its 10th year and has about 1.9 million viewers!