NEWS
Dr. Conrad Murray Barred from Administering Propofol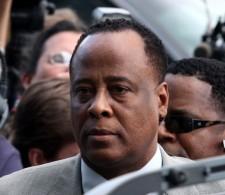 Although a judge has yet to make the decision to officially pull Dr. Conrad Murray's medical license, the Texas Medical Board has gone ahead and barred Michael Jackson's former physician from administering heavy sedatives like Propofol to any patients.
TMZ reports that Dr. Murray agrees with the restriction, as it is one of the conditions of his bail in connection with MJ's untimely death.
OK! NEWS: REPORT — MJ'S KIDS TO TESTIFY AGAINST CONRAD MURRAY IN COURT
Article continues below advertisement
The doctor also cannot put patients under for the time being.
On Monday, a decision was expected on whether or not Dr. Murray could practice medicine, as part of the manslaughter case against him. That decision was delayed until a June 14 hearing.
OK! NEWS: NO PROGRESS MADE IN MJ MANSLAUGHTER CASE
zi