NEWS
Dr. Drew Pinksy's Message to Sandra Bullock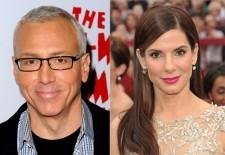 Dr. Drew Pinsky has decided to offer his expertise on the current state of Jesse James and Sandra Bullock's relationship. The board-certified addiction specialist and host of the hit VH1 show Celebrity Rehab has some sincere, and very straightforward, advice for the Oscar-winning actress.
"If I were treating Sandra, I would advise her to leave Jesse James," Dr. Drew told Radar Online. "They don't have a long life together, it's been a relatively short-term relationship. There is no doubt to me that this relationship is over."
Article continues below advertisement
OK! NEWS: REPORT — JESSE JAMES' FIFTH ALLEGED MISTRESS TO BE ANNOUNCED
Dr. Drew feels that after all of Jesse's indiscretions, he cannot turn around and be the kind of husband Sandra needs.
"Jesse is a sex addict, and Sandra is a love addict," Dr. Drew explained. "Sex addicts go for power and intensity, and that intensity is probably what attracted Sandra to Jesse. However, that intensity is not love, it's addiction. Sandra probably didn't give Jesse that level of intensity that he got with the mistresses."
Dr. Drew said he predicts Jesse is not going to change his ways, and he poses a question to Sandra.
"Why were you attracted to Jesse?" he questions, not understanding the match between the West Coast Choppers founder and the award-winning A-list actress. "Jesse is probably a very nice guy, but it's simply not a good combo for a sex addict and a love addict to be in a relationship."
Article continues below advertisement
Even though Jesse is a sex addict, Dr. Drew feels his infidelity scandal should not be compared to Tiger Woods' indiscretions and infidelity against his wife Elin Nordegren.
"Tiger and Elin were very much in love at some point, and that was a very genuine love," Dr. Drew explained. "They have two children together, a family, and many, many experiences together, and many reasons to try and make their marriage work."