NEWS
Dr. Oz Prescribes Sex Twice a Week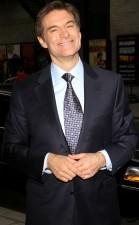 Now that Dr. Mehmet Oz is celebrating 25 years of wedded bliss with wife Lisa, the talk-show host has earned bragging rights to mastering marriage.
What's his secret?
"The most important thing I can ever say to a married couple is reinvent the relationship every seven years," the father of four, 49, whose Dr. Oz Show airs weekdays, says. "The person you're married to will change, and so will you. Every couple years, when the biological handcuffs come off that keep us together – the oxytocin and all the chemicals that come together so they can bear children and raise them to five or six years of age -- when that chemical wears off, you've got to reconnect emotionally."
Article continues below advertisement
He laughs, "So I've been married to three women. It's going pretty well."
Lisa, 46, chimes in, "I got tired of being married to a heart surgeon, and now I wanted to be married to a TV star."
One attribute that keeps their relationship rock-solid is a healthy sex life.
"Being intimate with the people you love is critically important to longevity," the doctor says. "We've got tons of data around it, but the basic rule of thumb is that if the average American has sex once a week, you want to have sex at least twice a week. It increases longevity by about three years. For women, it's more about quality than quantity. If you don't have that loving, conjugal relationship with someone you can grow with in life, then you're not fun and fearless."
MORE ON:
Red Carpet Confidential
Here's photographic evidence of the good doc and wife Lisa kissing outside outside of NYC's Ed Sullivan Theater when he appeared on The Late Show With David Letterman:
Even though they've been married for 25 years, this relationship almost never happened due to a first-date faux pas. This meat-lover took his vegetarian sweetheart out for fast food.
"I took my wife on our first date to Philly Cheesesteak -- the big hangout place in Philly, and I didn't know what a vegetarian meant," he says. "Her mom made her a vegetarian when she was 12. That was a long time ago. The story of my life, I learned from her."