NEWS
Dr. Phil: Britney's Hospitalization "Could Be a Good Thing"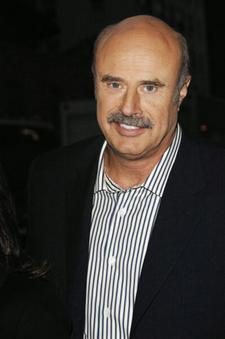 TV talk show host Dr. Phil McGraw appeared on The View this morning to discuss his show's anniversary, and Britney Spears' .
"I don't think Spears' current hospitalization surprises anybody. All I've ever tried to do is help. By that I don't mean doing therapy, because I don't do that anymore, but I've always felt like let's get her to the right kinds of professionals — ones that could provide psychological and psychiatric support. I don't know the circumstances of how she wound up in the hospital today, but if it's moving in that direction, that could be a good thing."
Article continues below advertisement
When asked about his visit to Spears during her Jan. 3 hospitalization, McGraw explained that, "I think the whole purpose in going was to have a meeting and start a low-key dialogue that in some point in the future might make her open to some suggestions about getting some help."
McGraw stated that it was Lynne Spears that contacted him and requested that he visit Britney at Cedars-Sinai. "I don't apologize for trying to help or responding to their calls for help," said McGraw. "I don't think there was any intent for this to be secret. I was followed in and followed out of the hospital."
McGraw deflected criticism that he visited Spears for personal gain and publicity, and said that he was motivated by Lynne Spears' cry for help. "I made the statement so that there wouldn't be wild speculation about what went on. If they called me now, how can you not help when a fellow parent calls?"
And he reiterated that he would not disclose the contents of his conversation with Britney. "I did not then or nor will I disclose what took place. That's just not something I'm going to talk about."
Still, McGraw said he hasn't been contacted by the Spears family since. "Certainly I haven't been called or contacted. I know just what everybody else does. If this current hospitalization starts her on the road to getting some intervention, then that's a good thing."